This product has been discontinued and is no longer available. Information here is for reference only.
A totally new and revolutionary concept in composite panel manufacturing.
A fully mechanically fixed system.
Lightweight construction.
Wind and blast resistant.
EXTERNAL
Non loadbearing stainless steel panels will replace conventional heavy steel plate cladding. No need for added insulation or decorative liners.
INTERNAL
Non loadbearing decorative panels will replace conventional steel plate bulkheads with added insulation and decorative liners. Typically for use within areas having a high risk of Hydrocarbon fires.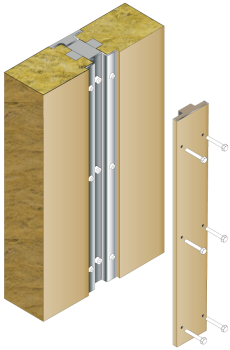 Manufacturer
Description
Fire Class
Standard
Width (mm)
Panel Height
(Up to/mm)
Module Width
(mm)
Thickness
(mm)
Weight (Kg/m2)
Sound Reduction
(dB)
Thermal
Insulation
(W/m2 K)
Application
BD.HD2-150
H120 / 2 hour
1180
6000
-
150
61.5
50
0.22
Cladding / Partition
Details