C-600 is an acoustic double wall system with two independent wall elements installed in the same profile system.
Available as standard or modular system.
Allows installation of electrical cables before completing assembly (in 70 mm version).
The wall elements are special stiffened and approved according to High Speed Code (HSC) for 30 minutes non-load bearing.
Weight:
All weights are based on system weight, including all profiles.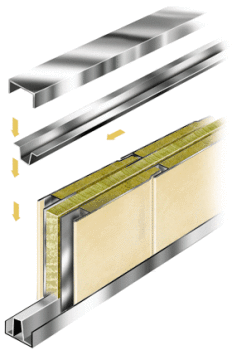 Sound Reduction

45-49dB
Description
Fire Class
Standard
Width (mm)
Panel Height
(Up to/mm)
Module Width
(mm)
Thickness
(mm)
Weight (Kg/m2)
Sound Reduction
(dB)
Thermal
Insulation
(W/m2 K)
Application
C-600/20
C-class
600
3000
100-700
20
14.1
-
1.18
Lining
C-600/50
B-15/B-30
600
3000
100-700
50
27
45
0.59
Double wall
C-600/70
B-15/B-30
600
3000
100-700
70
27.2
46
0.69
Double wall
CS-600/50
B-15/B-30
600
3000
100-700
50
33.2
48
0.72
Double wall
CS-600/70
B-15/B-30
600
3000
100-700
70
33.4
49
0.69
Double wall
Details