Clair Ridge: A future focus in the North Sea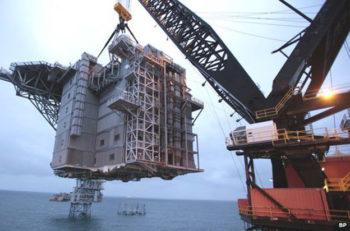 Last month, BP announced that it will sell its Forties Pipeline System (FPS) in the North Sea, to focus on growth with new projects including the Quad 204 redevelopment and Clair Ridge. Lying 75km to the west of the Shetland Isles, Clair Ridge is a multi-billion investment by BP, Conoco Phillips, Chevron and Shell that will extend the productive life of the Clair Field from 2028 to 2050.
The installation includes two bridge-linked platforms – and in 2015, BD Systems won the design and supply contract for H120 and A60 Blast Skirt Panels, to be incorporated into the quarters and utilities (QU) topside module.
Maintaining structural integrity for Clair Ridge
The platform's six-storey living quarters and helideck were placed on top of the Utilities and Power Generation Module, creating a void of varying degrees between the two modules. That void needed to be filled without compromising the fire and blast integrity of the complete structure.
BD responded by designing a solution using its H120 and A60 rated blast wall system. While suitably robust, these blast walls offer the lightest construction available on the market. With a flexible method of installation, BD's system could incorporate access doors, yet still be shaped to accommodate the module's main structural members.
And because the Blast Skirt was being fixed onto both painted and insulated steel plate, only a fully mechanically fixed system could be considered.
No hot work needed
The total install of the doors and walls was achieved without any need for onsite hot work. With a two-hour fire rating, H120 Heavy Duty blast walling is a revolutionary composite panel system. Lightweight and fully mechanically fixed, the non load-bearing stainless steel panels replace conventional heavy external steel plate cladding, while internally they can be used in place of steel plate bulkheads with added insulation and decorative liners, particularly where there is a high risk of hydrocarbon fires.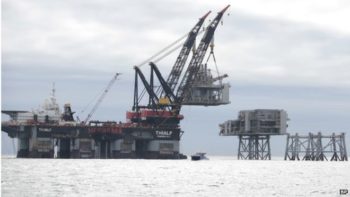 A60 Heavy Duty blast walling is a flexible system that offers similar properties to the H120 and, with a one-hour fire rating, is typically used around galleys, laundries and plant rooms.
And the blast walls not only provide protection for personnel working on services inside the void area between the two modules, they also protect the underside of the living quarters (LQ), the topside of the quarters and utilities integrated deck (QUID) and the stairwells.
BD Systems' approved installer Cape Services of Aberdeen carried out the installation of the Blast Skirt at Clair Ridge in June 2015. You can see a video of the modules, including BD Systems' blast panels at the base of the helipad module, being installed here.
HMS Ocean: celebrating 'Mighty O'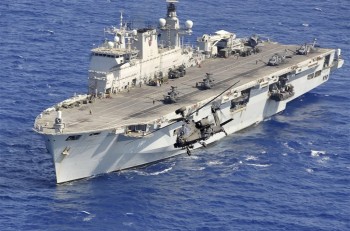 News this month that Royal Naval Fleet Flagship HMS Ocean is to be decommissioned in 2018 prompted a trip down memory lane here at BD, as we remembered our first call from The MoD, when we were contracted to develop new wall finishes for this unique and versatile vessel.
HMS Ocean is an amphibious assault ship, the Royal Navy's sole Landing Platform Helicopter (LPH). At 203.4m (667ft) long, Mighty O has a range of 8,000 miles (7,000nmi) and cruises at a speed of 15 knots – 18 knots when she's travelling at top speed. Designed to support Commander UK Amphibious and Landing Forces, Ocean has seen action off Sierra Leone (2000) and alongside Ark Royal in Iraq (2003), as well as supporting many rescue operations around the world, achieving stardom on the small screen in Channel 5's "Warship" documentary and even providing a helicopter landing site during London's 2012 Olympic Games.
A controversial beginning
Her story began in 1993, when she was constructed by Kværner (Govan) on the River Clyde. Vickers Shipbuilding and Engineering Ltd (VSEL) were awarded the contract for fitting her out, with a highly competitive and somewhat controversial bid that treated her design as that of a merchant ship with military hardware 'bolted on'.
It was against this background that BD first encountered Mighty O, with a contract to develop special finishes for the ship's interior wall panels that would meet Naval Engineering Standards NES 711 and 713.
Our brief was to deliver a solution that met the most stringent smoke and toxicity regulations, yet offered an attractive laminated finish, which was very popular at the time. However standard laminates were unusable because they would splinter when exposed to the intensity of an explosion.
Innovation for reliability under fire
The challenge was to develop a new laminating process that would remain stable during operation. To maintain certification standards in situ, the laminate-like wall surfaces needed to be bonded to steel sheet. With steel and the surface materials having totally different expansion coefficients, the laminate, being the weaker of the products, was liable to crack.
Having carried out extensive trials and exhaustive toxicity, vibration and drop testing, BD solved the problem by developing a process with a flexible adhesive, that allowed both steel and laminate to move independently. The result ensured that Ocean's walls would be reliably strong, resilient, safe and secure in heavy seas and under fire.
The wall units also had to be easily de-mountable, for quick release and ease of access throughout the ship in the event of fire or an explosion. Our response was to develop the BD Flush Omega system, where individual panels could be removed from a run, without any need to de-mount the entire wall.
Return visits, fond farewells
This first encounter was not to be our last. Over the years, BD has returned to HMS Ocean several times, to undertake projects ranging from fitting out new Messes, re-fitting replacement panels and doors in cabin areas and replacing and upgrading shower & toilet facilities.
It has been an honour and a privilege to contribute to her long career at sea. When she is finally decommissioned, HMS Ocean will be a tough act to follow.
Turnkey solution for Cygnus Alpha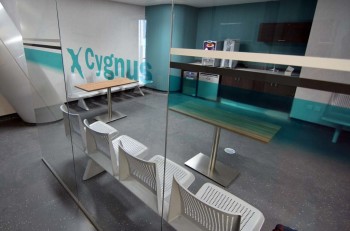 At the end of June, the sail out of the Cygnus Living Quarters Module marked the end of a one-year, turnkey contract for BD from approved installers Kaefer C&D. Our role was to engineer and supply a complete internal architectural system for Cygnus Alpha, a permanently manned complex consisting of three bridge-linked platforms.
As the UK's second largest production site of natural gas, the £1.4billion Cygnus field, described as the largest new gas field to be discovered in the southern North Sea for 25 years, is expected to meet the needs of 1.5 million homes when drilling begins towards the end of 2015.
Single source crucial to success
Kaefer C&D had identified early on that having a single source supplier for all the internal architectural components was crucial to the project's success – and BD Systems was contracted for all five components of a full, turnkey package, for both the accommodation and PU (Utilities) modules.

The contract included 34 pre-fabricated cabins, complete with integrated wet units, self-supporting A and B Class ceilings panels, entrance doors and corridor liners. All other areas for both modules included standard BD-CIS range A60 and A30 wall panels and ceilings, internal heavy duty and lightweight doors and fully integrated, fully glassed screens and doors certified A60 and B15.
All cabin units were manufactured to size and supplied flatpack, with complementary equipment by BD Systems' manufacturing partners Norac and glassed screens and doors supplied by 'Aluflam' of Denmark.
Engineering and project management
From the outset, BD Systems was heavily involved in detailed engineering to provide a smooth interface for all the project's architectural components.
As a UK-based company with an engineering background and project management experience in the offshore industry, BD's involvement was, says Jeff Blakey, Kaefer C&D project manager and installation team lead, a contributing factor to the overall success of the project.
"With a long standing relationship, we know and trust BD Systems as a supplier with genuine turnkey capabilities, that can be relied upon to supply materials that will meet specification, with deliveries to fit both schedule and budget."