As a fully mechanically fixed structure CLEARSPAN is a unique Lightweight Blast & Fire Wall System.
Manufactured from 2 x 50mm thick composite panels.
The unique design enables the inner and outer panels to be held in place with a structural panel joint.
The cavity structure is so designed that in the event of an explosion, the steel supports between the joint system will collapse in a controlled manner reducing the energy imported to the supporting structure whilst at the same time maintaining structural integrity in the face of a Hydrocarbon fire.
Details:
Fully mechanically fixed
Lightweight
Significant Blast Loadings can be achieved without the need for additional support structures.
Cavity depth and panel thickness can be adjusted to meet elevated Blast requirements.
Designed to incorporate BD Blast doors, windows and penetrations.
Blast Design subject to project requirements. Illustrated design rated to 1.35 Bar and 4.35 mtr Span and 250mm Cavity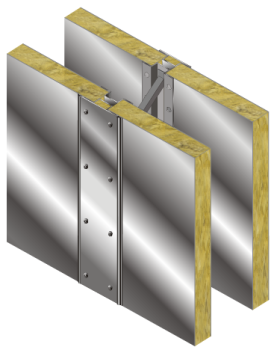 Description
Fire Class
Standard
Width (mm)
Panel Height
(Up to/mm)
Module Width
(mm)
Thickness
(mm)
Weight (Kg/m2)
Sound Reduction
(dB)
Thermal
Insulation
(W/m2 K)
Application
CLSP - H60
H60 / 2 hour
1200
12000
-
300 (overall)
90 (average)
54
0.22
-
Details