FastClad is an extremely fast, clean, easy and very cost effective means by which to refurbish existing slightly old and tired looking wall panel systems on board cruise ships or inside offshore accommodation modules.
The area to be refurbished is quickly enhanced when the FastClad sheets are adhered directly on top of the existing wall lining and partition panels using a specific IMO approved fire retardant adhesive system. FastClad cover sheets are supplied as standard at 600mm width but are cut to project required length and with a crush fold bend to both long edges ensure a close, tight and seamless fit between each sheet applied.
Preformed internal and external angle trims are used when cut edges need to be obscured.
BD Systems (Europe) Ltd only use approved contractors for all such installations and we will be happy to recommend such companies to you upon request.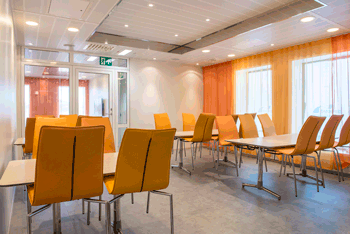 Description
Fire Class
Standard
Width (mm)
Panel Height
(Up to/mm)
Module Width
(mm)
Thickness
(mm)
Weight (Kg/m2)
Sound Reduction
(dB)
Thermal
Insulation
(W/m2 K)
Application
FastClad
BS476 / Class 1 or better
600
3000
100-1200
0.7
4.5
+2 dB on existing
None
Decorative Covering
Details