Hatch leaf:
Door frame in stainless steel.
Fire rated glass with extra pressure-glass.
Hatch Frame:
3mm frame in stainless steel with fixed gasket.
Options:
Panic bar.
Protection grid.
Baggerød now offers a combined fire rated window and escape hatch. We foresee a demand within offshore living quarters and container modules installed offshore, which require both a fire rated window and a means of emergency escape.
Our new A-60 Glazed Escape Hatch gives both in one solution!
The installation will of course be more cost effective than a conventional installation using a fire-rated window and a separate escape hatch or door.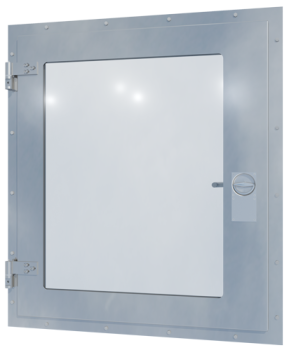 Manufacturer
Description
Fire Class
Operation
Surface doorleaf
Frame (and top element)
Thickness doorleaf
(mm)
Weight
(c.o. 750 mm/kg)
Clear opening size (mm)
Sound Reduction
(dB)
Application
Comments
HB-5000G Glazed Escape Hatch
A-60
Manual
3 mm stainless steel
3 mm stainless steel
40
90
NA
38
External
Options: Panic bar, Protection grid
Details