HB-SB is a light but solid sliding door with high fire rating.
Interior B-class sliding door.
The door can be delivered as a manual operated door or with electric operated door drive system.
Doorleaf:
Made of 1mm PVC foiled steel plate from Dobel, with mineral wool core.
This door can also be delivered with painted mild-steel or stainless steel surface.
Door frame:
Clamping frame is standard. Delivery Bolting frame is an option.
Surface with primed, painted or stainless steel surface.
Options available:
B-15 rated:

Electric sliding door single
Manual sliding door single

Non rated:

Electric sliding door double
Manual sliding door double
Ventilation louvre
vision panel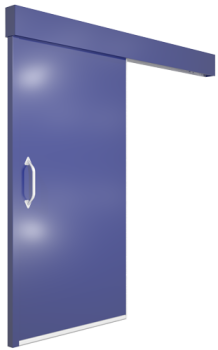 Manufacturer
Description
Fire Class
Operation
Surface doorleaf
Frame (and top element)
Thickness doorleaf
(mm)
Weight
(c.o. 750 mm/kg)
Clear opening size (mm)
Sound Reduction
(dB)
Application
Comments
HB-SB
B-15
Manual
PVC coated, painted or stainless steel surface
2 mm painted mild steel or stainless steel
46
85
1100 x 2200
NA
Internal
NA
Details