K-600 is designed with integrated joint profiles for rapid installation, leaving a flush surface with single seam joints. Available in standard or modular system.
K-panels are also available in aluminium construction in B-15 with considerable weight savings.
See technical description below.
Weight:
All weights are based on system weight, including all profiles.
Approved B-15 with cable penetrations available for several wall types.
The K-panels (25 and 50 mm) have been shock tested. More information available on request.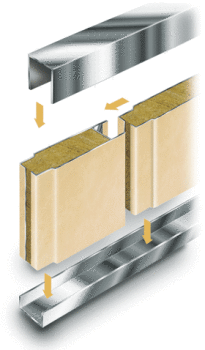 Sound Reduction

24-32dB

Notes

Norac systems are delivered with a wide variety of connecting elements/profiles to obtain the best solutions.Corners may also be delivered in stainless steel finish.
Description
Fire Class
Standard
Width (mm)
Panel Height
(Up to/mm)
Module Width
(mm)
Thickness
(mm)
Weight (Kg/m2)
Sound Reduction
(dB)
Thermal
Insulation
(W/m2 K)
Application
K-600/25
B-15
600
3000
100–800
25
13.8
26
1.16
Partition and Lining
K-600/50
B-15
600
3000
100–800
50
19.2
32
0.65
Partition and Lining
K-600/100
B-30
600
3000
100–800
100
25.2
32
0.34
Partition
A-585/25 *
B-15
585
2500
100-800
25
12.7
-
1.16
Lining
A-585/50 **
B-15
585
3000
100–800
50
12.3
24
0.65
Partition and Lining
Details