This product has been discontinued and is no longer available. Information here is for reference only.
There are certain situations where only a tile has the visual and functional qualities required. In these circumstances Meta Danacoustic marine tiles can be specified with confidence, having been approved for use on oil and gas platforms where ratings up to B-0 or B-15 are required.
Our marine tiles have been chosen for larger areas such as dining rooms, lounges etc. They have excellent acoustic properties and can be supplied with a plain or perforated face depending on the sound requirements. Both styles are fully certified.
Marine Tiles – Colours
Colour is obviously an essential element in interior design, so although standard panels are white, we can work with your designers to meet almost any colour specification.
Recessed light fittings are available.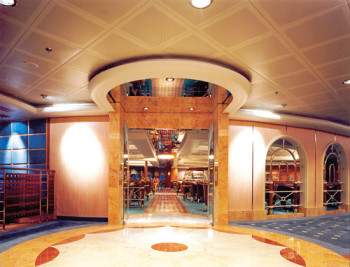 Description
Fire Class
Panel length (up to/mm)
Std. module width (mm)
Special module width (mm)
Thickness
Weight (kg/m2)
Sound Reduction
(dB)
Thermal
Insulation
(W/m2 K)
Application
B-0 / A-15
B-0 / A-15
300 x 300
600 x 300
600 x 600
-
25
5.7 - 6.9
Self suspended ceiling
B-15 / A-30
B-15 / A-30
300 x 300
600 x 300
600 x 600
-
25 x 75
9.1 - 10.3
Self suspended ceiling
Details