The standard units are delivered each with four square tubes for easy lifting and locating on board.
A specially designed lifting frame is used for hoisting by crane.
After lifting on board, transportation wheels are fitted into the tubes. The units are then jacked up and transported to their final position.
All units are delivered with one adjustable leg at each corner to allow for levelling.
Norac wet units are so complete when delivered that after fixing them to the deck you only need connect the water, drainage and electricity to use them.
Norac wet units have been successfully installed on numerous vessels throughout the world, whether they are on a luxury cruise liner, commercial vessel or offshore platform.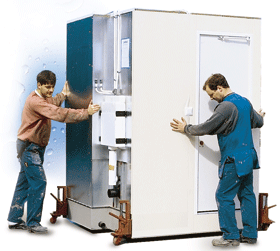 Manufacturer
Details