A new collaboration with the University of Salford's School of Computing, Science and Engineering has put BD Systems' composite blast panels to the test, proving the inherent strength of the company's modular architectural systems for greater spans in offshore applications.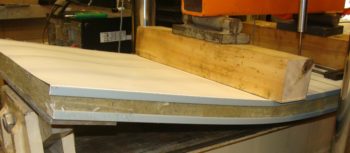 Bending and shear tests were carried out on both 50mm and 100mm thick panels, to look specifically at the mineral wool that makes up the core of the panels and the adhesive that bonds the panels' component parts together.
"We now have the tools to deliver the same levels of integrity for greater spans in large-scale offshore projects"
Combined with known parameters for steel, the findings can be used to evaluate panels of different lengths and widths – and ultimately to build a highly accurate model for blast analysis properties.
"What this actually means," says Ian Leppard, BD Systems' group managing director, "is that we now have the tools to specify and deliver the same levels of integrity for the ever-increasing spans that are required for large-scale offshore projects."
As the UK's largest producer of fire and blast solutions for the marine and offshore industries, testing and retesting the integrity and capabilities of its modular architectural systems is, he says, business critical.
"It's not enough just to say our fire and blast rated systems are up to the job. Technologies, risks and threats develop and evolve all the time. Offshore structures are getting larger and our blast walling must continue to deliver structural integrity, irrespective of the spans involved."
Peter Jay of Epsilom Experts has worked closely with BD Systems for 20 years, developing FEA (Finite Element Analysis) models for the blast performance of the company's composite systems. "What these tests have unequivocally established is the failure strength of the mineral wool and the deflection limits of the panel," he says, "creating a solid basis for analysis and knowledge-building in terms of how BD Systems' composite structures react under load at any size or span."
Paul Busby is project manager at the University of Salford's School of Computing, Science and Engineering and was instrumental in setting up the testing for BD Systems. He says: "This was a great example of collaboration between research/academia and business, which also enabled us to access some internal funding through our in-house Innovation Funding Scheme.
"BD Systems came to us with several panel designs, which were tested to establish the degree of composite action between their outer skins and mineral wool cores. From the results obtained, a stiffness value for each panel was determined. With this information, BD Systems has solid data to support product certification and the design of composite architectural blast walling for different and much larger sizes or spans in application."
BD Systems will, says Ian Leppard, work with the University again. "Paul and his team have delivered invaluable knowledge that will provide watertight data for product certification."